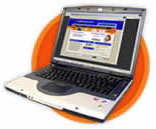 Complete your COURT APPROVED traffic school online!
Our online court approved California online traffic school course fulfills all court and California state requirements, while allowing you the convenience of studying at your own pace. And if you're not completely satisfied with our online programs, we'll always stand by our 100% money back guarantee - we're confident that our course is the best one available.
Why a Court Approved Course?
Get the confidence of using a Traffic School provider with over 10 years of experience dealing with courts
When timely certificate processing is important to you, you want the most experienced help you can find
We offer rush processing for those last minute court due dates
When possible, we'll process your completion certificate directly with the court
When you register you can see BEFOREHAND if your court accepts traffic school
Your satisfaction is always guaranteed - No ifís, andís or butís!

Court Approved Classes Powered By the Best!
CaliforniaTrafficSchool.com is powered by the hands down leader in the traffic school industry: TrafficSchool.com. When you choose CaliforniaTrafficSchool.com, not only do you get court approved online traffic school at a discounted price, you get the TrafficSchool.com money back guarantee - your complete satisfaction or your money back - now there's traffic school done right!

California Court Approved Traffic School - Courts
Looking to see if your court approves traffic school for your citation? The best way to make sure you are eligible for traffic school is to start the registration process. We'll tell you BEFORE asking for payment if your ticket allows you to take one of our court approved traffic school programs. Here's a sample of some courts in California that most likely accept one of our industry leading court approved traffic school courses:



Alameda County Courts
Alameda Traffic School
Berkeley-Albany Online Traffic School
Fremont-Newark-Union City Court Approved Traffic School
San Leandro-Hayward-Castro Valley TrafficSchool
Livermore-Plesanton-Dubin Traffic Ticket Dismissal
Oakland-Piedmont-Emeryville Traffic Ticket Course


Amador County Court
Jackson Traffic Ticket Class


Butte County Courts
Chico Traffic School
Gridley Online Traffic School
Oroville Court Approved Traffic School
Paradise TrafficSchool


Contra Costa County Courts
Concord Traffic School
Pittsburg Online Traffic School
Richmond Court Approved Traffic School
Walnut Creek TrafficSchool
Del Norte Traffic Ticket Dismissal
Crescent City Traffic Ticket Course


Glenn County Courts
Willows Court Approved Traffic School
Orland TrafficSchool


Imperial County Courts
El Centro Traffic School
Brawley Online Traffic School
Calexico Court Approved Traffic School
Winterhaven TrafficSchool


El Dorado County Courts
Cameron Park Traffic School
Placerville Online Traffic School
South Lake Tahoe Court Approved Traffic School


Fresno County Courts
Clovis Traffic School
Coalinga Online Traffic School
Firebaugh Court Approved Traffic School
Fowler TrafficSchool
Fresno Court Approved Traffic School
Kerman TrafficSchool
Kingsburg Traffic Ticket Dismissal
Reedley Traffic Ticket Course
Sanger Court Approved Traffic School
Selma TrafficSchool


Kern County Courts
Arvin-Lamont (South Kern) Traffic School
Bakersfield Online Traffic School
Delano-McFarland (North Kern) Court Approved Traffic School
Kern River (East Kern) TrafficSchool
Maricopa-Taft (South Kern) Court Approved Traffic School
Mojave (East Kern) TrafficSchool
Ridgecrest (East Kern) Traffic Ticket Dismissal
Shafter-Wasco (North Kern) TrafficSchool


Kings County Courts
Avenal Online Traffic School
Corcoran Court Approved Traffic School
Hanford TrafficSchool
Lemoore Court Approved Traffic School


Lassen County Court
Lassen Court Approved Traffic School


Los Angeles County Court


Madera County Courts
Borden Court Approved Traffic School
Chowchilla TrafficSchool
Madera Traffic Ticket Dismissal
Sierra - Bass Lake TrafficSchool


Marin County Court
San Rafael Court Approved Traffic School


Mariposa County Court
Mariposa Traffic Ticket Dismissal


Mendocino County Courts
Fort Bragg Online Traffic School
Ukiah Court Approved Traffic School
Willits TrafficSchool


Merced County Courts
Los Banos Traffic Ticket Dismissal
Merced TrafficSchool


Modoc County Courts
Alturas Court Approved Traffic School
Mono County Traffic Ticket Dismissal
South County Branch Court Approved Traffic School
North (Bridgeport) TrafficSchool


Monterey County Courts
Marina Division Traffic School
King City Division Online Traffic School


Napa County Court
Napa TrafficSchool


Nevada County Courts
Nevada City Traffic School
Truckee Online Traffic School


Placer County Courts
Auburn Traffic School
Colfax Online Traffic School
Foresthill Court Approved Traffic School
Lincoln TrafficSchool
Roseville Traffic Ticket Dismissal
Tahoe City Traffic Ticket Course



Plumas County Courts
Greenville Court Approved Traffic School
Portola TrafficSchool
Quincy Traffic Ticket Dismissal


Riverside County Courts
Banning Traffic School
Blythe Online Traffic School
Corona Court Approved Traffic School
Hemet TrafficSchool
Indio Traffic Ticket Dismissal
Lake Ellsinore Traffic Ticket Course
Moreno Valley TrafficSchool
Palm Springs Traffic Ticket Dismissal
Perris Traffic Ticket Course
Riverside Traffic Ticket Dismissal
Temecula Traffic Ticket Course


Sacramento County Courts
Elk Grove-South Sacramento TrafficSchool
Galt Traffic Ticket Dismissal
Sacramento Traffic Ticket Course
Walnut Grove-Isleton Traffic School


San Bernardino County Courts
Barstow Traffic School
Big Bear Lake Online Traffic School
Chino Court Approved Traffic School
Fontana (Valley) TrafficSchool
Joshua Tree (Morongo Basin) Traffic Ticket Dismissal
Needles Traffic Ticket Course
Rancho Cucamonga (West Valley) Traffic School
Redlands (East) Online Traffic School
San Bernardino (Central) Court Approved Traffic School
Twin Peaks TrafficSchool
Victorville Traffic Ticket Dismissal


San Diego County Courts
Chula Vista (South County) Traffic Ticket Dismissal
East County Division Traffic Ticket Course
El Cajon Traffic School
Escondido Online Traffic School
Kearny Mesa Branch-Clairemont Mesa Court Approved Traffic School
North County TrafficSchool
Ramona Branch Traffic Ticket Dismissal
San Diego Traffic School
San Marcos Online Traffic School
Vista Court Approved Traffic School


San Francisco County Court
San Francisco Traffic School


San Joaquin County Courts
Lodi Traffic Ticket Dismissal
Manteca Traffic Ticket Course
Stockton Traffic School
Tracy Traffic Ticket Course


San Luis Obispo County Courts
Grover Beach Traffic Ticket Course
Paso Robles Traffic School
San Luis Obispo Online Traffic School


San Mateo County Courts
Central Traffic Ticket Dismissal
Juvenile Traffic Ticket Course
Northern Traffic School
Southern Online Traffic School


Santa Barbara County Courts
Figueroa Division Traffic Ticket Dismissal
Lompoc Traffic Ticket Course
Santa Barbara Traffic School
Santa Maria Online Traffic School
Solvang Traffic School


Santa Cruz County Courts
Santa Cruz Online Traffic School
Watsonville Traffic School


Siskiyou County Courts
Doris Traffic Ticket Course
Happy Camp Traffic School
Weed Online Traffic School
Yreka Traffic School


Shasta County Courts
Redding Online Traffic School
Burney Traffic School


Sierra County Court
Downieville Traffic School


Solano County Courts
Fairfield Online Traffic School
Vallejo Traffic School


Stanislaus County Courts
Modesto Traffic Ticket Course
Oakdale Traffic School
Ceres Online Traffic School
Turlock Traffic School
Juvenile Traffic School


Tulare County Courts
Dinuba Traffic Ticket Course
Porterville Traffic School
Tulare - Pixley Online Traffic School
Visalia Traffic School


Tuolumne County Court
Sonora Online Traffic School


Yolo County Courts
Woodland Traffic Ticket Course
Yolo Traffic School